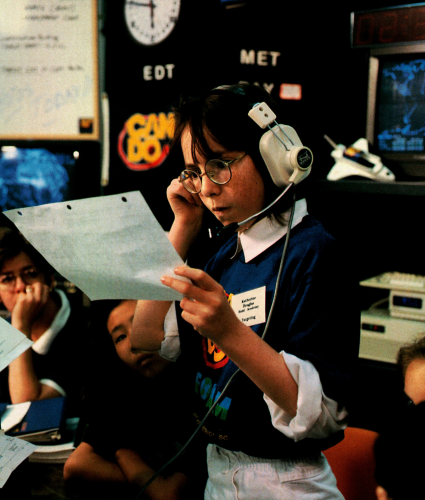 Image Credit:
Students With a Mission: NASA Puts the 'Can Do' Project in Orbit. National Geographic Magazine, August 1994, Vol.186, Issue 2.
---
"The bottom line is that legal names 'out' folks who are trans* all the time."
I believe that most of us here at the DWRL want to create safes space for trans* students. Unfortunately, creating a safe classroom isn't always the most intuitive practice--especially when it's so easy to stay blissfully ignorant about cisgender privilege. Personally, I've never intended to make trans* students uncomfortable. Still, as I think back to my experiences as a TA and AI, I can't help but notice things I could have done better. Regardless of intention, that's not cool. One of the things I could have done better? Roll call.
For a lot of us, having our legal first-name broadcast to the world is nbd, if not mildly obnoxious. However, for some, legal names are linked to exposure and potential violence. Especially for a trans* student whose preferred name isn't their legal name. There's no way for a student to use their "preferred name" through the UT system. So what you see on your roster is a legal name, not a preferred name. This makes the common practice of reading out your roster and asking students to tell you their preferred name a risky practice. Especially for a student whose legal name connotes a different gender than their preferred name. As Shane O. Whalley, Education coordinator for the Gender and Sexuality Center puts it, "The bottom line is that legal names 'out' folks who are trans* all the time."
As instructors, coupling a student in our classroom with their first name via their UT student records is mandatory. It's how we report grades, failure reports, look up contact information, and a bunch of other important stuff. What's a well-meaning educator to do?
First: It's a good practice to assume that you have trans* students at any and all the time. Likewise, it's a good practice to treat all students with dignity and respect. This means not playing the role of gender detective, but rather approaching the issue of names in a careful and thoughtful way all the time.
Second: Never post your official UT rooster for all students to see. Don't call out names. Likewise, don't push students to tell you if the University has them using a different first name in earshot of other students.
Finally: Have a better strategy. Consider using a sign-in sheet that asks for student's for their information in a discrete way (remember to ask for both name and UT ID so you can keep your administrative records in order.) Last semester, I used an online survey to gather students information, where students introduced themselves in class and completed a Google Survey outside of class. Everyone responded. My survey asked students their major and email alongside their preferred name and gender pronoun. If you go this route, make sure that the settings secure so that only you can see students' responses (duh.)
Striving to make the classroom safe for trans* students doesn't end with roll call, but changing up how we address students is a good place to start. Balancing this stuff isn't easy but, and I hope we're all on the same page with this, there's no other option. To help us out, there's loads of other good resources from the Gender and Sexuality Center.