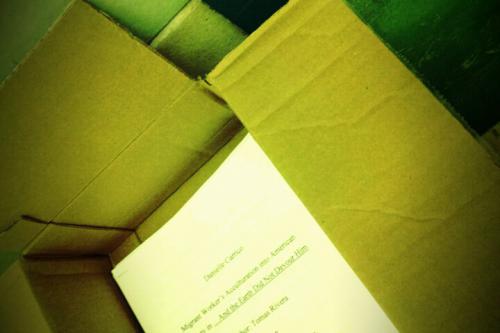 It's the end of the semester, and across the nation an all-too-familiar sight is littering the hallways of English departments: the box of student essays. Sometimes it's an envelope, sometimes it's a stack of papers half-shoved into a mailbox or under a door. But the sight of these final papers abandoned by their students and/or professors reinforces my conviction that it's time for us to move to digital submission.
While assessing student essays on a computer screen isn't without challenges (I find myself making many fewer positive comments in the marginal remarks, for example), there are a lot of good reasons why I made the decision to go digital. And I encourage you to consider making the switch for the semester ahead. First and foremost, digital submission improves work flow - for everyone.
No more misplaced assignments: word processing software has its risks regardless of how the final product is formatted. Students will inevitably forget to save documents or suffer computer crashes and viruses before an assignment is due. But digital submission means that once an assignment is turned in (via e-mail or the class wiki or website), there's no longer a risk of any assignment going astray. With the date and time stamping of any digital platform, there's also never any question of when an assignment was submitted.
Coursework isn't restricted to class time: when assignments can be turned in from a computer, the time-frame for submission is opened up well beyond the one hour window two or three days a week. This expansion can benefit both students and instructors. Digital submission gives you the freedom to allow students extra time to revise after Thursday's useful class discussion, but they can still get their papers turned in before your weekend grading binge. It can also reduce turn-around between assignments. You can ask your students to submit short papers each Tuesday, but you won't have to kill yourself to get them graded by Thursday if you can provide your feedback over the weekend.
Feedback becomes a semester-long process: when your comments are stored in a digital file, you (and your students) can access your feedback at any time. You can say farewell to the days of file folders filled with multiple drafts and assignments (which often go astray or unexamined). When grading a student's essay 2, you can look back at essay 1 to see how they've improved (or if they're still struggling with the same problems).
Grading revisions is a lot easier: when you have digital copies of both the original and the revised version of an essay, comparing the documents is a snap with Microsoft Word's "compare documents" function. The changes a student has made will be highlighted, and you can quickly discover if they followed your suggestions and how rigorously they revised.
Smaller environmental impact: this might go without saying, but digital submission is obviously a way for composition instructors to feel better about the environmental impact of their assignments. Given that the U.S. paper industry (alone) consumes 83 million tons of paper each year, requiring 40.5 million trees, and "clear cutting an area half the size of Texas" - I like to think I'm making some small effort to reduce those numbers.
All this being said, I do agree with my colleague, Jay Voss, who argues for the value of seeing one's writing in print. While I encourage digital submission for my students' final assignments, I always hold peer review workshops in print. Though I'm dubious about the efficacy of the feedback they receive, the physical act of marking up a paper (whether their own or a fellow student's) has proved extremely valuable for my students.
No system is entirely perfect. Digital submission means that I can't generally grade papers on the bus, and I'm less prone to use Word's comment function for positive feedback. But in the age of e-readers and social networking, I can only think that asking students to submit assignments electronically is an exercise that better prepares them (and me) for the times to come.