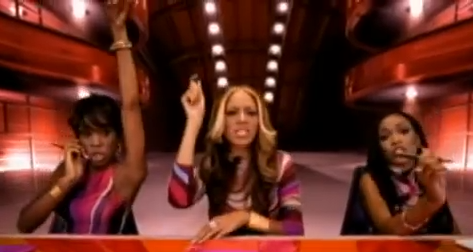 Image Credit:
In order to improve my course design and teaching, I ask my students at each semester's end for feedback on the assignments and course texts. When I reviewed their responses for last semester's class, in which I taught an E314L class on Women's Popular Genres, one text emerged as a favorite: the Destiny's Child song "Independent Women Part I." I used the music video during the first and second class days to introduce students to formal, historical, and cultural reading practices. It did not surprise me to see them bring this up, as popular culture provides unique material for both rhetorical and literary analysis. The various advantages and disadvantages of the material, however, I intend here to further explain.
In this specific case, I agree with my students. Teaching "Independent Women Part I" helped me disrupt students' expectations and invited them not only to view close reading but the song itself through new eyes. I showed them the video first with lyrics, inviting them to takes notes on anything they noticed in particular: the melodies, the lyrics, the costumes, the dancing, the sets, etc. After an initial viewing, during which they also had the lyrics before them on paper, I asked them to talk about what they had observed.
The conversation that followed was wide-ranging: they not only closely read the material but also put it into larger musical and political contexts. They considered how the song's lyrics and visuals responded to second- and third-wave feminism as well as the specific cultural experiences of African-American feminists. We analyzed how the auditory and visual elements modeled or engaged with these different "feminisms." The students read the costumes and the performance in light of both the Charlie's Angels movie the video promoted and the original 1970s television series. We also considered how the song's rhyme schemes, verses, and bridge build and draw attention to various phrasings, and how lyrics like
"Question: how'd you like this knowledge that I brought
Braggin' on that cash that he gave you is to front
If you're gonna brag make sure it's your money you flaunt
Depend on no one else to give you what you want"
developed tone and invited readerly engagement with the text. While the song was familiar and fun, it was also not so recent that they didn't struggle to reconstruct some of the cultural context (particularly the late-90s/early-00s "girl power" movement). And while we did not have time to read discussions of Beyoncé's lyrics from pop feminism blog Jezebel, I gestured to it as an example of the connections between art and larger cultural questions.
This may have been so successful in part because, as I've previously described on viz, I've taught pop culture texts many times before. I've planned three classes—one on the Rhetoric of the Musical and two different versions of Women's Popular Genres—that have all involved popular culture genres: musicals, novels, songs, or television shows. Through these experiences, I've learned about the unique challenges that such texts create. For example, teaching my students about Dr. Horrible's Sing-Along Blog and other musicals in my Rhetoric of the Musical class allowed us to explore the question of how popular culture has commented on and presents arguments about America and "American values" since the genre's origins in the 1920s. We were able to read and discuss Bruce Kirle's analysis of Oklahoma!, which argues that the show attempted to persuade people against isolationist policies during World War II. However, the students struggled with accepting the arguments—they had difficulty seeing how something "silly" or "fun" like musicals could have any sort of cultural implications or intent. When teaching them Stacy Wolf's essay on Wicked, they were even hostile to the arguments. Their own lack of expertise in music also often left them struggling to articulate their analysis of the material: in other words, while they could characterize the melody as "sad," they couldn't generally articulate why. Also, while teaching women's popular genres meant it was easy to allow the students to write their final research papers on any subject they chose, it also meant they were inclined to work on texts that had not yet been included in critical conversations, like the television show The Vampire Diaries or Katy Perry's music.
Like I tell my students about writing, teaching pop culture texts is a choice with both advantages and disadvantages. Students are easily interested in them, but sometimes lack critical vocabularies to explore them. Their utility also depends on the assignments for which they're included. In short, I will always enjoy using Glee to teach kairos, but will be sure to provide them appropriate vocabulary to explore how the text performs kairotically.