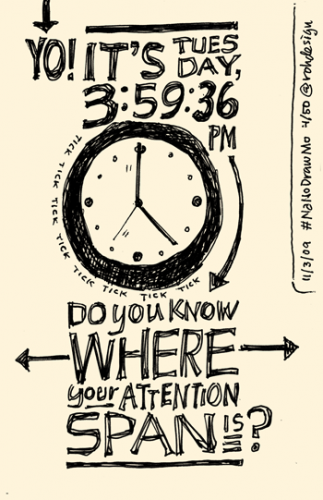 Image Credit:
Most folks these days—avid and casual users of technology alike—are probably aware of the myth that online readers have short attention spans. However, that myth may be, shall we say, "problematized" by recent research. It's also getting a bit of pressure from classroom practices. At an eComma workshop last fall, Kate Buetner reported that her students spent a lot longer doing close readings using interactive online tools than they did with print. Likewise, some DWRL instructors are pushing back against this myth by using teh onlines to teach close reading and analysis.
For her Rhetoric of Social Documentary course (RHE309K) Andrea Gustavson created a lesson plan that helps students with the collaborative assessment of blog postings. The assignment gets students to start thinking and writing analytically using informal language. Gustavson writes, "Although the purpose of the blog is to allow students to begin to generate analytical responses to course content without the pressure of focusing on formal writing, this exercise helps students become comfortable with the loose parameters of the assignment without the instructor placing constraints on creativity by handing down a set of criteria."
In his Banned Books and Novel Ideas class (E 314L), Ty Alyea has created an in-class approach to developing close readings. Aleya writes that "most beginning students have difficulties determining which elements of a given text are worth analyzing and constructing interpretive and analytic arguments." His assignment, then, "helps students identify how rhetorical/literary devices work to deepen and/or tweak the superficial meaning of the text in question."